Summerholiday in St. Johann
Recreation offer in Summer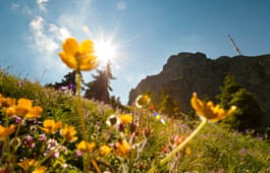 Charging energy in the mountains, take a deep breath - who does not dream?

Walking, the course of nature observed, dangle with the soul - and so very "incidentally do" something for your health. Tantalizing Summit goals, scenic valleys and alpine meadows, crystal clear mountain lakes, unique flora and fauna and mountains, as far as the eye. Fiber yield and immerse themselves in an extraordinary world.
Hiking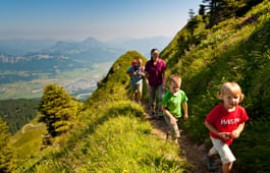 The holiday region Kitzbühel Alps stretches in a broad valley between the Wilder Kaiser and the Kitzbüheler Horn. Peaks, valleys, meadows, forests, the Kaiser Mountains Nature Reserve - Tours tempting for climbers, light paths and walking trails for the hiking enthusiast in the gentle hills of the Kitzbühel Alps.

Early in the morning you can feel it, this delicious spicy tingling of the Tyrolean mountain air. An elixir of life, body and mind brings up to speed.

Between green mountains of Wilder Kaiser massif and the holiday region with the towns of St. Johann in Tirol, Oberndorf, Kirchdorf and Erpfendorf is hardly suitable as an alpine region
Bike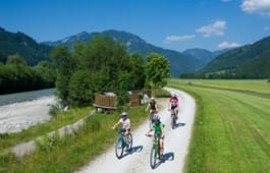 Explore with the wheel a great mix of holiday enjoyment and experience, rural villages and Tyrolean hospitable people!

The Region Wilder Kaiser - Kalkstein - Kitzbüheler Horn is due to its wide and sunny valley one of the most beautiful recreation areas in Tyrol. Over 200 km of cycling and mountain biking trails invite visitors to sports.

For each of cyclists are suitable routes. Worth mentioning is the experience way along the river "Großache": Kirchdorf Erpfendorf with a length of 3.5 kilometers on the back to nature built Grossache with picnic areas, observation decks and a children's play area - combined with semi-natural water engineering, right on Mozart-cycleway.
Golf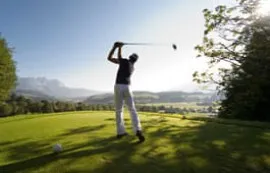 Unique is the holiday Kitzbüheler Alpen St. Johann in Tirol - Oberndorf - Kirchdorf - Erpfendorf in every respect.
And golf is very important to us!
The holiday region is a veritable paradise for lovers of golf who find here a first-class 9-Loch/Par 72 golf course with driving range and a 6-hole golf academy.
Here, your playfulness gets the right drive.
The award-winning golf course focuses on quality and comfort and offers varied fairways amidst glorious natural scenery!
Adventure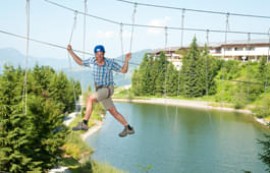 You are on the lookout for the special "kick" in your holiday ... because you will not be disappointed in the tourist area of Kitzbühel Alps!

In the Kitzbüheler Alps, St. Johann in Tirol - Oberndorf - Kirchdorf - Erpfendorf you will find a large selection of thrilling and exciting adventure opportunities.
Horseriding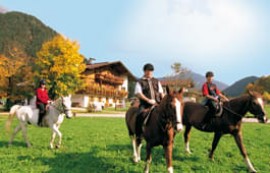 All the happiness of this earth is on the back of a horse!
 

Improve your riding skills in one of the tourist area of stables and spend memorable hours on horseback in the wild.